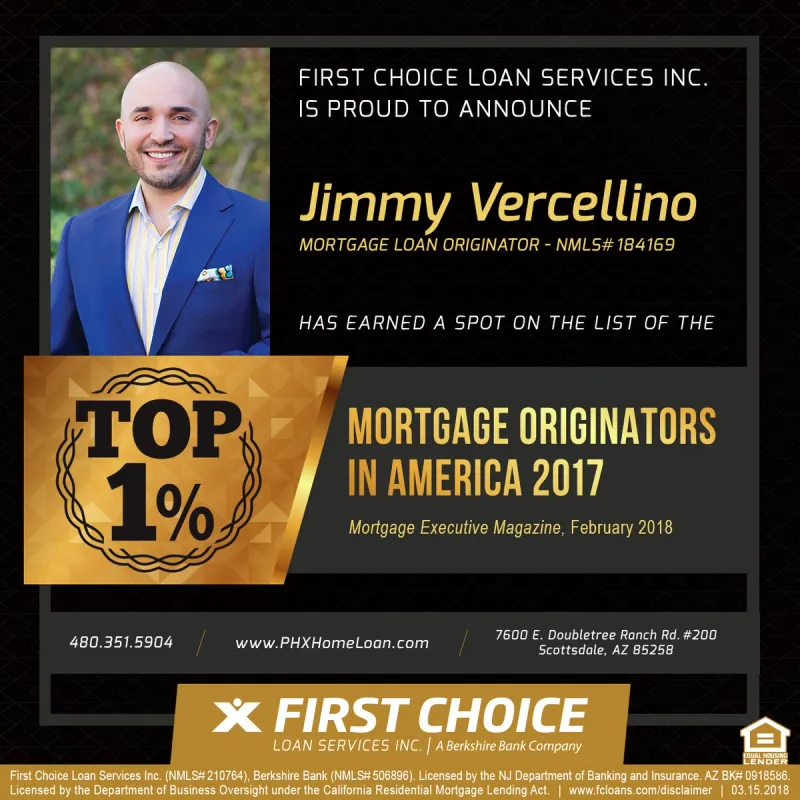 New Jersey-based residential mortgage lender First Choice Loan Services Inc. proudly announced that Jimmy Vercellino of its Scottsdale, AZ branch is the company's Top Loan Originator of the Year.
This is the first year for First Choice Loan Services to name a Retail Loan Originator of the Year, and Jimmy is excited to receive the honor.
"Since this is a new award for our company, I had no idea that this was even a possibility, so I'm extremely humbled to be recognized as one of the first Retail Loan Originators of the Year," said Vercellino. "I truly love what I do. Serving our country's Veterans is my life's calling. Knowing how these Veterans served and experiencing the sacrifices that they made, it helps me feel as though I'm continuing my service to our country. Aside from my family, being able to assist them in achieving the dream of home ownership is the most rewarding thing in my life."
Embodying Core Values
Jimmy was chosen based on the ways he embodies the core values of First Choice Loan Services, and was selected from over 150 First Choice Loan Services Loan Originators. The company's core values are:
working with honesty and integrity
operating on a foundation of teamwork
respecting and honoring the worth of each individual
being proactively nimble
providing service beyond belief
First Choice Loan Services Scottsdale Branch Manager RJ Crosby is extremely proud of Vercellino for receiving this recognition.
"I've had the honor of working with Jimmy for several years now. He is not only a professional colleague but a personal friend. I am consistently amazed at the level of dedication and heart that he puts into his work. He is deeply devoted to his clients, specifically driven with a passion to serve the Veteran community. The exceptional service is able to provide them is nothing short of remarkable,"said Crosby.
First Choice Loan Services President and Chief Executive Officer Norman T. Koenigsberg believes Vercellino clearly earned this award.
"First Choice has exceptional Loan Originators throughout our company. Jimmy stands out not only for producing a high volume of VA loans but also for the way he invests and gives back to the VA community that he serves," said Koenigsberg. "As a Veteran himself, he has a keen insight to the needs of his Veteran home buyers and home owners. He is able to relate to them in a way very few can. We are very fortunate to have Jimmy as part of the First Choice family."
VA Loan Specialist
Jimmy specializes in VA loans for veterans and has been a featured speaker at Todd Duncan's Sales Mastery events. His awards also include:
Top 1% of Mortgage Originators in American in 2015 by Mortgage Executive Magazine
Top VA Loan Volume by the Scotsman Guide for 2015
In his spare time, Jimmy volunteers with Hospice of the Valley, a hospice program specifically designed for Veteran patients.